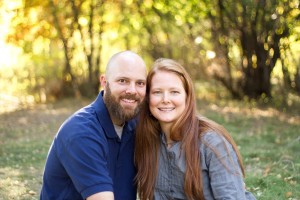 "Our kids have named our potential Adopted child 'Tater Tot' in order to specifically talk of and pray for this child and Birth Family."
We are Andy and Megan. Family is our treasureand are so excited to give of ours to a child brought to us by Adoption. We have four children by birth: Eli (11), Greta (9), Solomon (6.5) and Hattie (4.5). They have named our potential Adopted child Tater Tot in order to specifically talk of and pray for this child and Birth Family. It also falls into our family tradition of nick-naming a child before they are born.
We love to be together as a family, especially outdoors. We enjoy hiking, biking, walking, camping, working our hobby farm, and playing games. Indoors activities inclued  reading together, playing games and watching movies.  Our town offers many libraries, a zoo, botanical garden, and aquarium all of which we visit regularly.
Andy enjoys his job as a budgeting analyst. He enjoys coming home to our family in the afternoons where he is greeted by all with hugs and kisses. Megan is a joyful, attentive stay-at-home mom. We feel incredibly blessed that Andy can provide a steady income while Megan is able to stay at home.
Why we want to Adopt
For several years now, our hearts have been captured by idea of Adoption. We believe that not only does God Adopt us into His family by grace and through faith, but that we can likewise live that out in our own family by pursuing Adoption to grow our family that we love.  We are convinced that the whole Adoption process, Birth Family to Adoptive Family, demonstrates the gospel of Christ more than anything else because it is an overflow of love that is not based on performance but out of an abundance that comes from God alone.
You are bearing a precious gift. It is our greatest hope that you would feel at peace with your decision, however that may look. The Adopted child we end of receiving will be loved, and cared for. Thank you for considering our family as you selflessly choose a family for your child. Please know that we are praying for you; that God knows and sees and will provide for you.