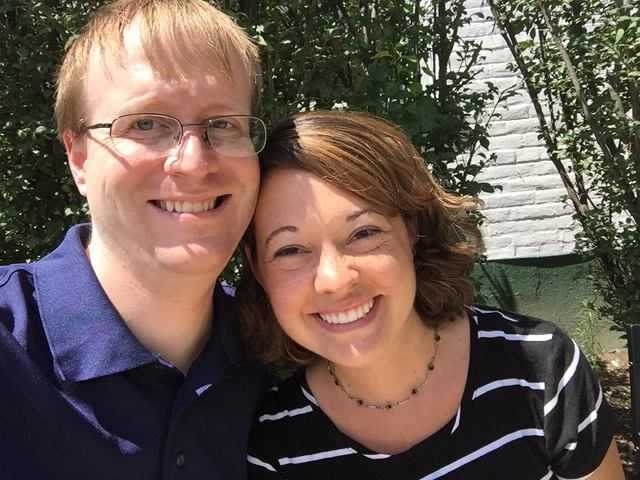 "God is growing our family through Adoption!"
Dan and I are so excited to see how God is growing our family.  Adoption is a big part of our lives. Several of our  family members are Adopted.  We want to share God's love, joy, and comfort with a baby. Our children will be raised in a Christian home with two parents who love the Lord.
Dan and I met 2011 we started attending Bible study at church. The two of us became good friends as we spent a lot of time together and later helped to organize a mission trip to Mexico. We began dating in August that same year and then got engaged right before Christmas! The next few months were full. We planned  our wedding,  we  bought a house, and went on a mission trip three weeks before our wedding.
Dan got me the perfect present for our 1st Christmas – a cute cockapoo puppy who we named Lucy! We love to go sightseeing, have friends over at our house, visit with family, go to the beach, & eat ice cream! Also, we enjoy serving the Lord together at church in our children's program and young adult ministry. Words cannot describe how thrilled that both of our families now live locally and look forward to family get-togethers with our baby & cousins!
"We love to go sightseeing, have friends over at our house, and visit with family."
Dan is a hard-working, caring man who loves God and his family. His family consists of both of his parents, 3 sisters, 1 brother, 1 brother-in-law, and three nephews. Three of Dan's four siblings are Adopted!  Growing up, he went to church and Awanas. Dan studied in the Spanish immersion program at school. He graduated from college with a degree in Secondary Education Social Studies and now teaches at a cyber school. Dan is also taking grad classes and hopes to someday be a principal. He likes to run, ski, play video games, and hang out with friends and family. He is very good at helping out around the house and takes good care of his family.
"Dan is a hard-working man."
Rachel is a very caring, encouraging woman who loves to serve the Lord. Her family consists of both of her parents, her twin sister, brother-in-law, and 1 nephew. She grew up in the same town where both sets of her grandparents lived, so she saw her grandparents a lot on weekends and at church. After attending Bible college, she taught at a Christian school for a year and joined a church which had a young adult Bible study. She later took a job at that church in the office and children's ministry program, where she continues to work now. Rachel enjoys making scrapbooks and photo books, reading, doing hair, learning about American history, playing miniature golf, and riding in golf carts.
We are SO thankful that God brought the two of us together. There is so much to be thankful for these past few years. Please know that we are praying for you. We truly hope that God blesses you greatly as you follow His will for your life. Trust that He gives you peace, strength, comfort, and joy in the days and years ahead.

Save
Save