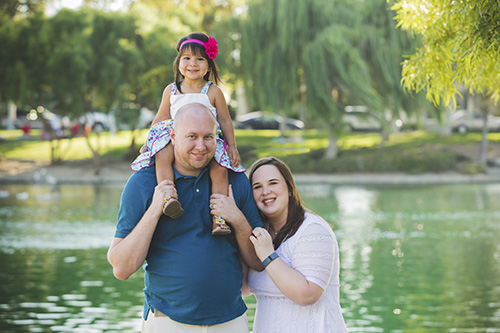 "We have so much love to give and are very excited to grow our family."
First we want to thank you for choosing life for the child that you are carrying. God has a special plan for all of us and we pray that you will be guided to the perfect family and that you will find peace of mind along the way. Our journey toward adoption began the day we were married 11 years ago. We always knew we wanted to have a lot of children but over time God has shown Himself to have other plans. He has placed a love for adoption on our hearts and it continues to grow every day as we place our faith in Christ.
Aimee grew up in a Christian family with seven siblings and many nieces and nephews. She is currently involved in our church and local pregnancy resource center and occasionally serves in the children's ministry. She is also a stay-at-home mother to our beautiful daughter we adopted over two years ago. Aimee's hobbies include reading, graphic design and spending time with her family.
Brent grew up the oldest of three boys and was very close to his cousins growing up. He currently leads the programming team at his workplace and continues to grow in his career. Brent is smart, hard-working, and incredibly faithful.
Thank you for taking the time to get to know us. We have so much love to give and are very excited to grow our family. It is our belief that God will be with you as you take this journey and we will continue to pray for His blessings on your life.

Save