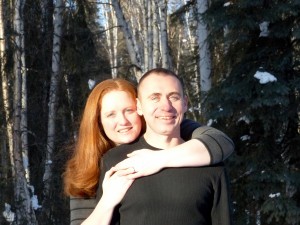 "Our home is filled with the joy and laughter of our family – who love being together."
We are Doug and Jen, and we live in Alaska.  This process of Adoption is amazing and we can't wait to go through it again . We are proud parents of three amazing kids. We have spent our 11 years of marriage living in various parts of the United States and Germany as God's hand directed Doug's career.  The first adoption journey began for us in 2008 and concluded in April of 2014 with the birth of our youngest son.  We are excited to open a new chapter in history as we step into the joy of our second Adoption adventure.
Our home is filled with the joy and laughter of five people who love being together.  Our family enjoys being active together we enjoy; hiking, traveling, reading, and also watching movies together.  At the end of nearly every movie you can find us dancing and singing along to the credits.  Fortunately, for our neighbors, we keep the show indoors!  When we moved to Alaska recently, it has  afforded us new escapades with snow, ice, and also moose in the backyard.
All five of us pray daily for our newest family member.  We are excited to see how God will work through this Adoption. God's plans are incredible.  Thanks for taking a few minutes to read this introduction. If you would like to know more, please take a look at our profile.  May the peace of Christ abound in your life as you honor Him through the gift of life for your child.

Save