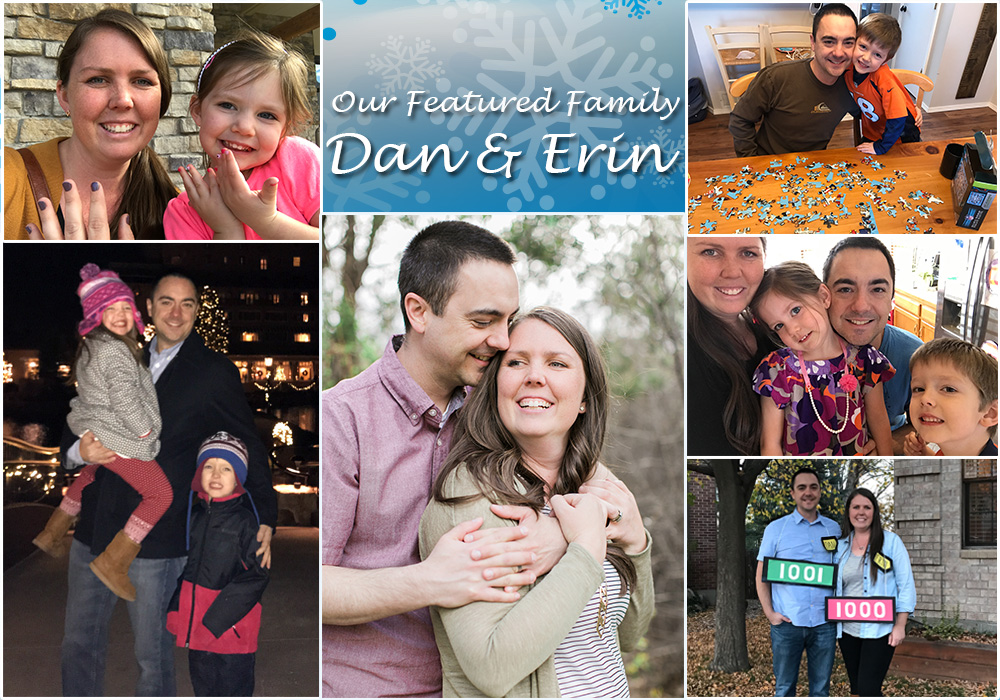 As both possess strong leadership qualities and a heart for growing others, it is not surprising that Dan and Erin met at church as they were both servings as mentors for kids in the Jr. High. They really enjoyed being good friends for a couple of years as Erin was finishing up her time of service in the Air Force.  They then dated for seven months when Dan proposed. Erin was attracted to how generous Dan was with his time, resources and talents.  He was always right there to help his friends and family in any way he could.  Dan was attracted to Erin's sweet, hospitable and giving nature.   They were married in August, 2007 and then spent five weeks on an incredible honeymoon that Dan specifically planned out for them.  They traveled through the Pacific: Hawaii, Fiji and the Cook Islands.
Dan and Erin love to travel.  Some of their greatest memories are exploring and visiting new places.  They share that one of their most memorable experiences was while visiting a Berber village in the mountains of Morocco – it was in a very rural area with no electricity or running water.  A family invited them in and treated them as guests of honor by serving them the finest food and drinks they had.  It was a humbling and eye opening experience for them and one that they will never forget.
They have been able to enjoy visiting many places in their marriage – even taking the opportunity to move to Hawaii.  There, they made so many incredible memories of which one was their ability to regularly find a stretch of beach all to themselves and watch the sun as it set beautifully.  It was these early years, together, exploring and having adventures that gave them amazing memories.  It is their strong faith, Dan's generosity and Erin's natural way and willingness to give that has set such a remarkable tone for their life.
Dan is a very talented web designer and has had the opportunity to work for some of the biggest ad agencies in the world, as well as have his own company.  Currently, he is working for Compassion International, a child sponsorship organization whose mission is to release children from poverty in Jesus' name.  He feels privileged to be working for this ministry.
Erin is blessed to answer the most amazing calling of being mom to their two great kids.  Their son, Evan, is five years old and their daughter, Audrey, is three.  Evan lives, breathes and dreams sports, while Audrey is a girly girl who loves dancing, singing and sweets.  Erin loves being home with them and caring for their needs.  They spend their days at home playing, doing crafts, reading books or watching movies… other days, they meet friends at the park or go on a hike or ride bikes.  They also like visiting museums.
Their whole family is excited about the addition of another baby.  Evan and Audrey can't wait and have been praying for a baby brother or sister.  Dan and Erin, are really in tune and involved parents.  They believe their role is to lovingly guide their children through life.  They are concerned with their kid's hearts – not just their behavior.  They read Bible stories and sing together every night and on weekends, Dan makes it a point to spend time with Evan doing sports in the backyard and with Audrey, painting her nails or playing babies with her.
Dan and Erin live in a beautiful and spacious home in Colorado Springs.  There, they enjoy all four seasons.  There are many things to do in the beautiful outdoors and their city is best known for being the headquarters for some of the biggest world changing ministries that exist… including the one Dan works with.  They have extended family in the area and travel annually to visit family in California.  They are a family that enjoys time spent together and the traditions of every holiday.
This family is full of love and they all dream of the day when their family becomes five.
Dan and Erin's favorite things:
Traveling
Exploring and visiting new places
Drinking coffee
Spending time with family
What Erin loves about Dan:
His generosity with his time
Dan is always there for friends and family that need him
Dan is a loyal Godly man
Dan places my needs and desires before his own
What Dan loves about Erin:
Erin is sweet, hospitable and giving
She is an amazing cook for not only her husband but the family loves come together to feast
Erin is an amazing wife, mother
She is so creative in raising our children
Our message for our Expectant Birth Mother:
Hi! Before we get into our introductions, we'd first like to thank you for considering adoption – we admire you for your selflessness, and this act of courage and love.  It's our prayer and desire that you are experiencing the presence and nearness of God as you walk this journey.
We are Dan and Erin.  Marriage came after being friends for a couple of years, as our friendship grew into love.  We got married in beautiful Colorado in the summer of 2007.  Before we were even married, we shared our  common desire to adopt.  After trying to conceive for a couple years, we chose to pursue Adoption.  Well, God had a different plan!!  Literally the day we were turning in our Adoption application, we found out we were expecting!  Life sure is full of the "unexpected!"  Our son, Evan, was born in June of 2011 and a year and a half later, in February of 2013, Audrey was born.  Although God fulfilled our desire to be parents, we still have a deep longing in our hearts to grow our family through Adoption.
Dan is an email developer for an amazing ministry called Compassion International.  He also owns his own web developing business and is in the Air Force Reserves.  He provides so well for our family. Erin is fulfilling her life-long dream as a stay-at-home-mom.   As a couple, we enjoy traveling, trying new restaurants, cooking together, playing games, dreaming about life, serving others and snuggling on the couch.  As a family, some our favorite activities are eating dinner together every night, playing at the park, going on vacation or to visit family, wrestling on the living room floor and spontaneous dance parties.
Our desire is to honor you on this journey.  Although we don't know you yet, we value you and God has placed a true love in our hearts for you. You are in our prayers daily, we wonder about you and most of all pray God is filling you with His hope.
Thank you for taking the time to learn a little about our family.  We are beyond thrilled to welcome a new brother/sister into our family!  He/she will be loved, adored and cherished to the max by all four of us!!
Love and Blessings, sweet one,
~Dan and Erin
Save
Save
Save