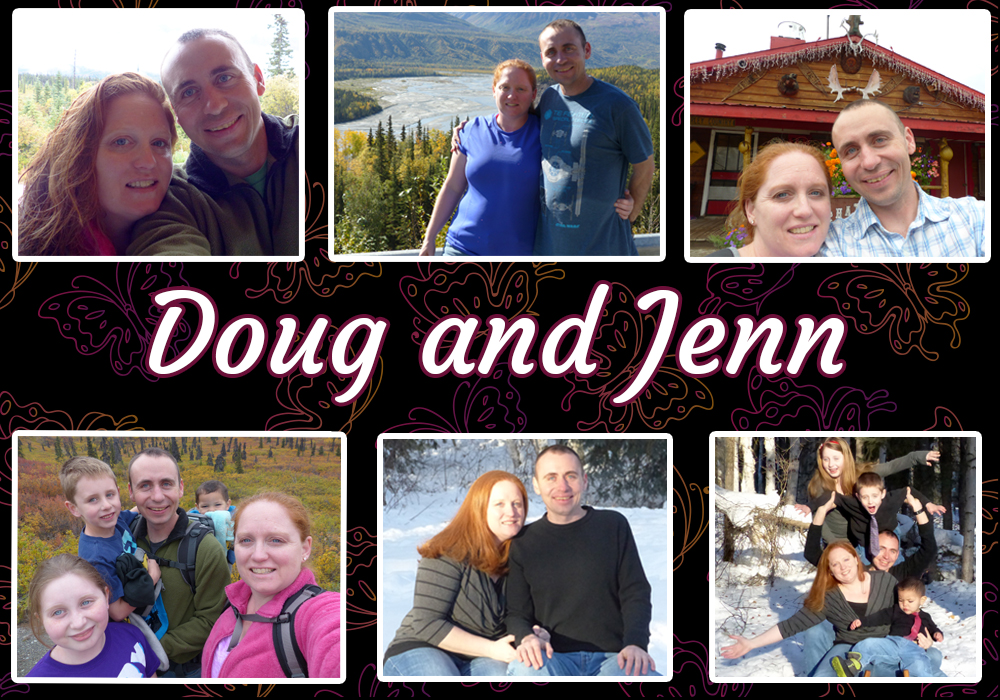 Doug and Jennifer
They met their Freshmen year of high school and enjoyed travelling in the same circle of friends throughout those fun school years. Though they did not date, they developed a great friendship.  Doug left for college in New York and Jenn stayed in California.  They maintained their close friendship through email and during their Senior year of college, it blossomed into something more.  After a super romantic engagement and wedding of their dreams, the adventures began.
Doug has a career as an Officer in the Army, where he is a helicopter pilot.  His work has blessed them with many travel opportunities and their family has lived all over the world.  Jenn knows that she has the best job in the world to be able to stay home and raise their children.  Doug and Jenn have three children – two biologically and one through the miracle of adoption.  They are amazing parents who believe that being present and hands on in the raising of their children gives daily opportunities to share Jesus with them.  Their greatest joy is to watch their children grow in their faith and love for the Lord.
Their daughter, Carianne, is 10 years old and is the best big sister to her two little brothers.  She enjoys all things girl, but is also an athlete and enjoys playing the piano.
Son, Gabriel, is 6 years old.  He is the resident comedian.  He is very bright and enjoys school and to help others.  He really likes doing Brazilian Jiu Jitsu and is learning to play the guitar.
Their youngest son, Samuel, is two years old.  He is what they call "the amazing treasure at the end of their first adoption journey."  He loves being with his family, whether it is riding in the jogging stroller with dad, chasing his big brother, reading with his sister or cuddling up with mom.  There is never a dull moment with Sam around.
Doug and Jenn have an incredibly close marriage, one that revolves around their faith in the Lord and also includes a lot of humor.  They make each other laugh daily and truly enjoy spending time with one another.  They have had the adventures of living in Europe as well as here in the U.S.  Presently, they reside in Alaska, where every day they have views of wildlife and breath taking nature that we see in the National Geographic.   Their travels have allowed their children to experience different cultures, communities and geographical locations. They tend to spend several years in each place and have learned that their home is exactly where all of them are as a family.
They make it a normal routine to spend time with their extended families as well.  Their children know and are close to their grandparents, aunts, uncles and cousins.  They enjoy their family traditions they experience when visiting and are quite the seasoned travelers.
 What Jenn says about her husband:
Doug loves his family. The evidence of that love is his commitment as a husband and selflessness as a dad. Doug is heard working honest, devoted, affectionate, patient, and stands up for what is right.

No matter what obstacles or opportunities may come, it is clear that his family is most important.

He's never ashamed to dance on the coffee table, have a light saber fight or just act plain silly. He is not perfect, but he truly is the perfect husband for me and the best father our children could have.

We always have fun together. No matter where we are or what is going on, we try to make the best of it and have fun.
Doug shares abut Jenn
Jesus has given me an amazing wife

Jenn's life is a shining example of selflessness

Jenn committed herself to being a home school mom and making sure that regardless of where life took our family, we would all know how much we're loved

She's the first to give up a morning workout when a kid has a rough night, wrap a child in her arms after a tough fall or nightmare

She's a great cook

I know that as beautiful as she is today, the woman that I'll see at 80 will be so much more radiant because of the years of joyful love she'll have poured out on me and others.

Exceedingly Patient
Affectionate
Loves Jesus
Knows how to have fun with the kids
Has eyes only for me
Message to our Expectant Birth Mom
We are very excited, hopeful and ready. We are expectantly waiting for our newest child to be grafted into our family. We love this new baby just as much as we love Carianne, Gabriel, and Samuel. We didn't say that we WILL love them, we said that we DO love them. We haven't even met this little one yet and we already yearn for the day we can gaze into those gorgeous eyes with love and say "welcome home." We love you too, and are overjoyed with your decision to give this baby life. We pray for you and the baby daily and cannot wait to meet you both. Thank you for taking the time to look through our profile. Whether you choose us or not, we are praying for you and your baby. We are clinging to God's promises and are confident that this adoption process has revealed how much God loves you and that beautiful baby. As you've given the gift of life, we're praying the love of Jesus would draw you close and that you would experience His saving grace.
With all our love,
Doug & Jenn