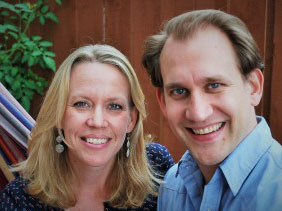 Hello, we are Marc and Karla and we want to begin by applauding your courage and selflessness on this journey. We can't imagine the search that brought you to this place. We are inspired that you have chosen to entrust your child to someone else. This is us. Our son's name is Soren and he can't wait to be a big brother! 
The important family member not pictured here is our two year old son, Soren. He can't wait to be a big brother! A glimpse into our family would show us clearing out the living room furniture for dance parties, rocking out with Marc and Soren on guitars and Karla on drums, hiking in the mountains in our neighborhood and chowing down on tacos, chips, and guacamole in our back yard. There's a ton of love in our home, and we are excited to share that love with another child.
"We are honored to be apart of your journey!"
Our story starts when we met in Los Angeles. Our marraige is eight years and going strong. Karla accepted a position as Associate pastor of a Presbyterian church so we moved to San Diego. San Diego immediately felt like home. We love the ocean breeze, the fresh air, the sunshine, and our warm and supportive church community. Soren, has made our life even better. We take trips to the zoo and Sea World. Seeing the beach through the eyes of a first-timer, and meeting all kinds of new people has blessed us. We're beyond grateful for the life we have and want to pass on that blessing.
Before moving to San Diego, Marc was a High School teacher and basketball coach at an inner city school in LA. When Soren was born he took a work-from-home position to be more available to raise a child. Our belief in life is that life best lived by helping others. This belief is extremely important to us. It is our desire to instill that same belief in our children. We love to travel and also want our children to experience other places and cultures. Karla's family lives both in Texas and on a farm on the East Coast and we go there at least once a year. Marc's parents are moving to Vienna, Austria, and we'll no doubt be taking visits there in the coming years.
We know the courage that comes from a Birth Mother and you will honored for years and years to come. Whether you find us a good fit or not, we pray you experience God's ease, peace, and happiness on this journey.

Save
Save