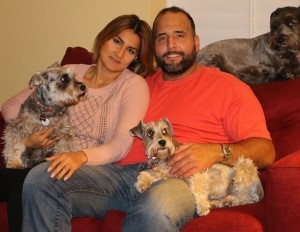 "Adopting a child is our deepest desire."
Hello our names are Nathan and Erika. We have been together for over 10 years and married for 3 of those years. Adopting a child is our deepest desire. Our hobbies include hiking, going to the movies, and spending time with each other. We have 4 pets, 3 dogs and 1 cat. Our pets are very important to us. They are sort of like our  fill in children right now. We treat them as family.
Erika and I, since the beginning of our relationship, have always shared the same sentiment in Adopting a child. It has been a dream of ours that one day adoption would happen for us. If Gods plan is for us to be parents, we feel we will be great at it! Someday we would love to have more children. The children that find there way to us will be treated in the highest regard. We promise to love and cherish your child as our own.  They will always know that you made a selfless act of love and that you love your baby too!
Thank you for taking the time to learn a little more about us and for your consideration. We are praying for you as you continue to search for a family for your child.