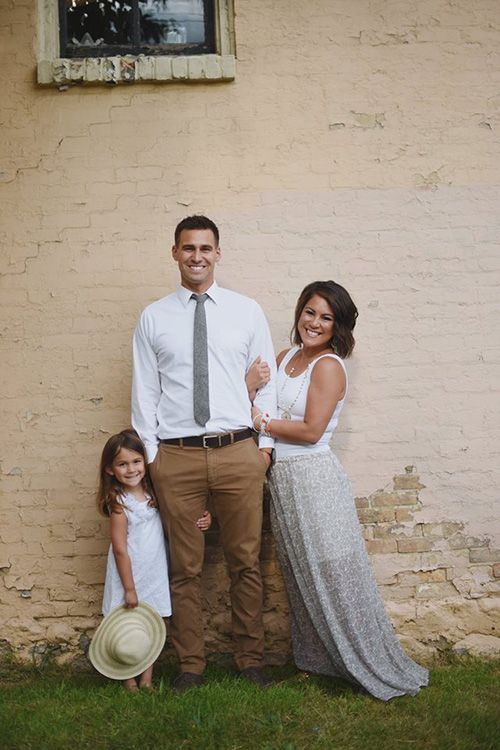 Our Journey
Hello! First we would like to thank you for reading and learning about our journey, and our little family of three! We are Eric, Anita and Scarlett. We met in Orlando, Florida while attending UCF and FULL SAIL UNIVERSITY. We fell in love instantly and there began our journey! Eric was from Michigan going to college in Orlando, and Anita was from Orlando. We were becoming best of friends when Eric had to move home to Michigan. After many months of phone conversations and a growing relationship we decided to move in together and move to Michigan. We were quickly engaged and Married! Not soon after we were blessed with the birth of our baby girl Scarlett Ann. We always wanted a big family & dreamt together of a big table full of laughter and happiness! We also knew right away that we wanted adoption to be a part of our family plan as adoption had always been on our hearts. We became pregnant with our son John Paul but at 32 weeks we discovered that there was no heart beat. Within 4 months we found out that we were were expecting another boy however at the 20 week ultrasound William did not have a heart beat either. These losses were devastating to our family. We want to have a big family and since adoption has always been part of our plan to grow our family we feel lead to begin our journey.
Our family loves to do fun things outdoors. You can usually find us riding bikes, hiking, going to the beach, enjoying a movie, traveling and always learning new things! We are a very active family as we own our own health and fitness business that they run out of our home.
About Anita from Eric:
Anita is outgoing, witty, fun and self proclaimed health and fitness nerd! After the birth of Scarlett, Anita joined a company called Team Beachbody. Anita went on to build one of the largest businesses within the company! She runs a team of 5,000 representatives. She motivates, inspires and teaches people how to get into shape and feel great about themselves! She trains her team of 5,000 plus to do the same! Anita is a great educator, motivational speaker, and mentor to many! Fortunately with the business she has built over the last 5 years she has made it so she and I can work part time, and work from home! This gives us both the opportunity to be very hands on with Scarlett and her education!
Eric from Anita:
Eric lights up a room with his smile. He can really make a room laugh with his wit and charm! Eric is a professional photographer. At one time Eric was one of the most sought after wedding photographers in Michigan. Because of the the success of my business, Eric left wedding photography to exclusively photograph for my business and for friends and family for fun! Eric is a super hands on Dad. He is presently home schooling Scarlett and is absolutely amazing at it! Eric loves science, sports, and random fun facts! He loves to make people laugh! His main goal in life… have fun and make others do the same!