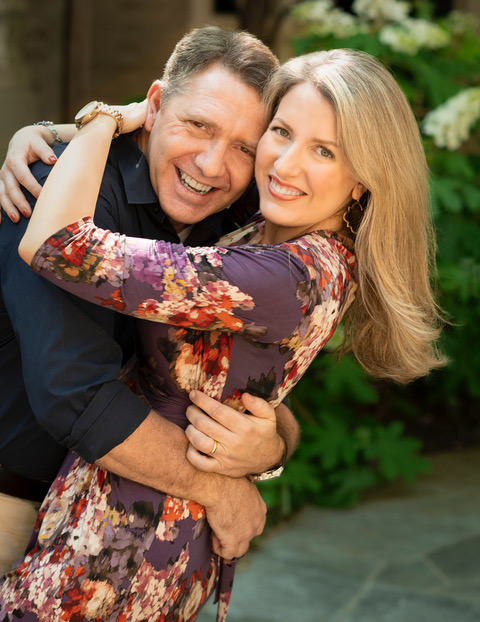 "We know you are facing the biggest decision of your life, in placing your precious baby."
Hi! We're Kimberly and Ken. Thank you for reading our profile. We know you are facing a big decision about placing your precious baby, and we pray that God will grant you wisdom and peace. We don't pretend to understand the emotions you are feeling as you search your heart for the family that will be the best fit for your child. We'd love to share with you a little bit about ourselves hopefully to help with your decision.
About Us
We live in Southern California. When we were young, we committed our lives to Christ and we have been involved with church all of our lives. Until we met about seven years ago, we both were focused on our careers. Introduced by a mutual friend, our first date was running a half-marathon together in San Diego. We now have been married for about five years, and we live active and full lives. Both of us love to travel to Hawaii, and we have visited other parts of the country as well, including Texas, Northern California, New York, Colorado, Florida, and Boston, Massachusetts. Some of our most valued time is spent taking our nieces and nephews to Disneyland and other outings such as baseball games, horseback riding, museums, parks, plays, musicals, and fun run/walk races.  Tucker, our sweet dog, is very good with children. We are saving a special place in our hearts for the child or children who will join us in our home one day.
Home
We live in a quiet, tree-lined, residential neighborhood near the mountains, less than an hour's drive from the beach and half an hour from Disneyland, Dodger Stadium, and Angel Stadium. We enjoy hosting parties for neighborhood friends, including their kids. Our town has a central village with many little shops and restaurants and a farmers market where we get fresh produce and flowers every week. The town has excellent public schools and we can hear the high school football game cheers from our house. Each year we have an all-day Fourth of July holiday celebration with a parade and a neighborhood BBQ, followed by fireworks and a live band. We host a large neighborhood Christmas party in our home. Every day we see kids walking and riding their bikes to school in our safe, close-knit neighborhood.
Kimberly about Ken
Ken loves our spacious yard and garden and often proudly brings me fruit and flowers from outside. He has a curious mind and enjoys learning and exploring the world with me while taking lots of pictures. His favorite sport is baseball—he even has an online fantasy baseball team of his own! Most days, he walks our dog, Tucker, in the morning.  Ken enjoys exercise and being active.  He often runs with his running group and he goes skiing about once a year with his buddies. Sometimes he surprises me by playing piano on a holiday or Sunday afternoon. Ken loves to spend time with our nieces and nephews and will be a wonderful dad one day!
List of Ken's Favorites:
Food: Pizza
Vacation: Skiing
Movie: Field of Dreams
Band: U2
Sport: Baseball
Ken about Kimberly
Kimberly works part-time as a Marriage and Family Therapist with the counseling ministry of a church. Her job consists of counseling people of all ages and backgrounds, including children.  She loves her career.  She moved from Boston to California and thoroughly enjoys Southern California's sunny climate – it allows her to exercise outdoors and work in the garden throughout the year.  Recently she has delighted herself in decorating and organizing our home. Kimberly has made it beautiful, warm, and homey! One of my favorite things is when she bakes a tray of chocolate chip cookies or sweet potato fries! One of Kimberly's best qualities is her great sense of humor and her ability to make excellent impersonations. Her best is Mary Poppins, her role model! She can even say supercalifragilisticexpialidocious backwards!!  Family is very important to Kimberly, and she is an amazing aunt to our nieces and nephews. She also is passionate about teaching kids at the church where she works. Through these experiences she has learned a lot about parenting and is ready to be a world-class mom!
List of Kimberly's Favorites:
Food: Chocolate
Vacation: The beach
Movie: Mary Poppins
Band: Taylor Swift
Sport: Basketball
Careers
Ken enjoys his work teaching government as a college professor. He spends his time with eager young college students, helping them develop their abilities and make decisions about their futures. We are fortunate that he can walk to work and come home for lunch. Monday through Friday he works in his office and teaches classes on campus. Working as a teacher, he has a flexible schedule, especially during the summer and other school vacations. Once our baby is home with us, Ken plans to reduce his work-time and adjust his schedule so he can spend more time with our family.
Kimberly is a Marriage and Family Therapist and works at a local church with clients from the community. She has a flexible schedule and meets with her clients when it works for the family. Once we become parents, Kimberly plans to reduce her work commitments and stay at home with the baby for as long as needed.
Our Journey
We are excited to become parents through the wonder of adoption. Your baby's family of origin always would be honored in our home. If you decide to place your child with us, we will be forever grateful for your decision.
You already are a hero in our eyes. Both of us have witnessed some selfless acts of love in our lives, and your considering placing your child with an adoptive family is a shining example of that kind of love. We admire that you are considering adoption and we want you to know that we honor and respect you, whether or not you decide to place your baby for adoption, and whether or not we ever meet. We wish the very best for you and will keep you in our prayers.
Warmly,
Ken and Kimberly

Save
Save