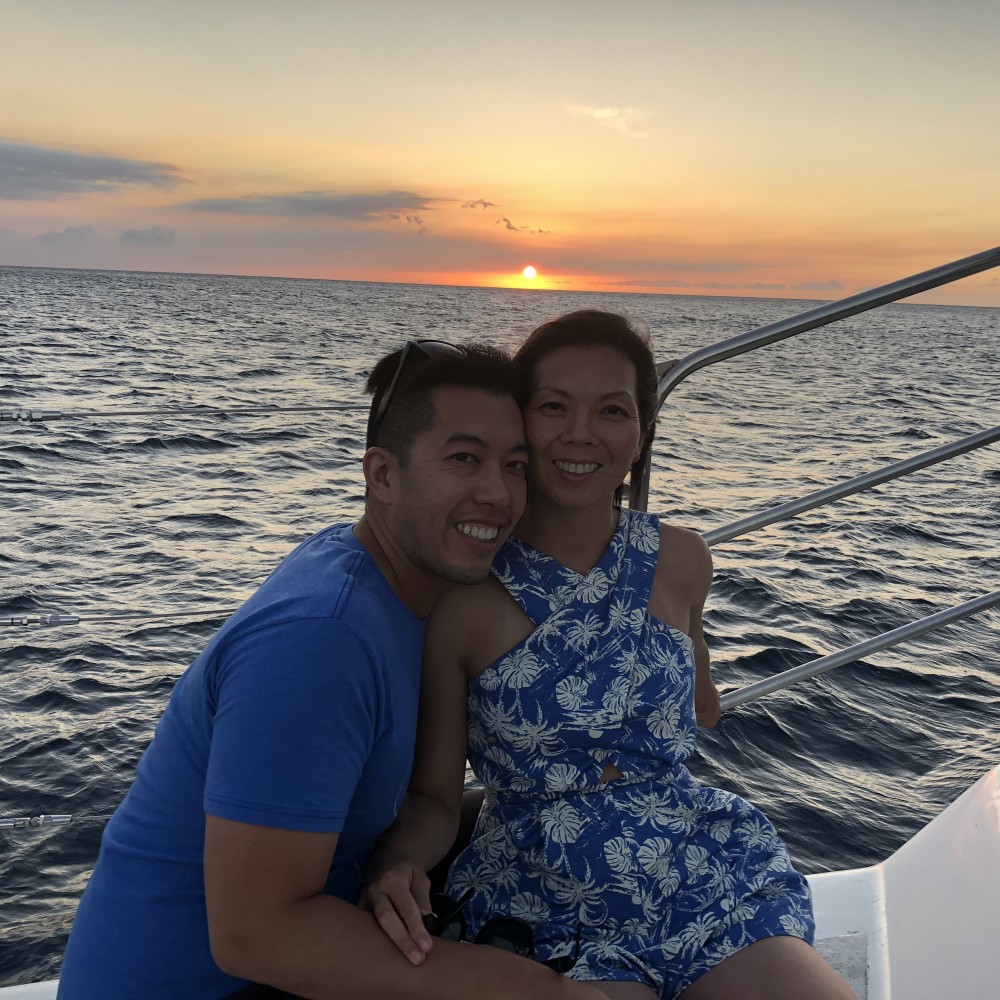 Our family has so much love to give. Adoption is our hope.
You are braver than you think, to have taken this step at considering adoption for your unborn child. For that, we thank you from the bottom of our hearts.
We were the first in our generation to have met online. In hindsight we were pretty brave, to carve our own path. It is nearly 15 years later and we are living proof that it works! Samuel was just starting his career in finance and accounting and I was just starting out my career and building my practice as a doctor. After a year of courtship he proposed and we got married on a beach, one of our favorite places together as a couple. We knew we wanted to start a family but decided we'd wait a year to just enjoy married life. When we were ready it didn't come as easy as we'd hoped.  It took 15 months before I became pregnant with our first daughter Ava. It was one of the happiest moments in our lives. It truly made us appreciate the miracle of life and parenthood. We were finally a family of three! Three soon became four with daughter Bella, and at that point we thought we were done. But after a a few years, something felt like it was missing, like a baby boy to balance things out. The girls were 4.5 and 2.5 years old when we decided to start trying. It has turned out to be quite a challenge and a test of our patience and faith. It's been five years of trying every type of reproductive method available to us. It was truly a test of our marriage, our family unit, and certainly took a toll on my body with the various medications and daily injections. We came out of it a little wiser knowing this was out of our hands, we gained some closure and knew without any doubt adoption would be our last hope to complete our family.
Angela was born in Vietnam but raised in the US since she was 3 years old. Being the first family to immigrate to the US, they didn't have anyone to lean on, they didn't have a penny to their name. Her parents worked day and night to provide for the family. Her oldest sibling at 9 years old was their caretaker, Angela was the youngest of 5 children, she therefore had to learn to be independent early on. She studied hard in school so she wouldn't have as hard a life as her parents. She grew up to be a doctor and spent 10 years building her career before having kids, it was not easy achieving her goals she made her fair share of mistakes along the way. She finds motherhood extremely rewarding and doesn't regret giving up her career to care for her children. She enjoys being in the outdoors, especially the beach; she also enjoys hiking, skiing and traveling with her husband and family.
Samuel was born and raised in Northern California and he loved all things boy's like! As a child he adored playing with his GI Joes, Transformers, baseball, football and basketball. He was really good with numbers as a child, always counting things including the money in his piggy bank. He is one of the rare few who grew up doing what he loved to do, working with numbers. He's a loving father, firm (or tries to appear that way) but always has a soft spot for his little girls. He's definitely a big kid and we can always count on him to make us laugh. He likes to collect sports memorabilia, enjoys music, a good concert, spectator sports, snowboarding, relaxing on the beach and traveling. Even now as the girls are older, ages 9 and 7, they are asking for a baby brother to love, play with and help take care of. This is all without any mention from us that we have been trying all these years and now through our final hopes of adoption. Both girls have such brilliant little minds, attending a language immersion school, they're creative and enjoy music and can be found striking a dance move during every spare minute they have (even in grocery store aisles). They have many hobbies and interests and we are fortunate to be able to financially provide for them and will do so comfortably should we adopt. We hope this journey wherever it leads us we will take comfort in knowing how truly blessed we are to already have such a beautiful family with the hope to add one more to it!
We hope you will take comfort in knowing your baby will have two adoring big sisters and parents that are waiting to shower him/her with love and affection!