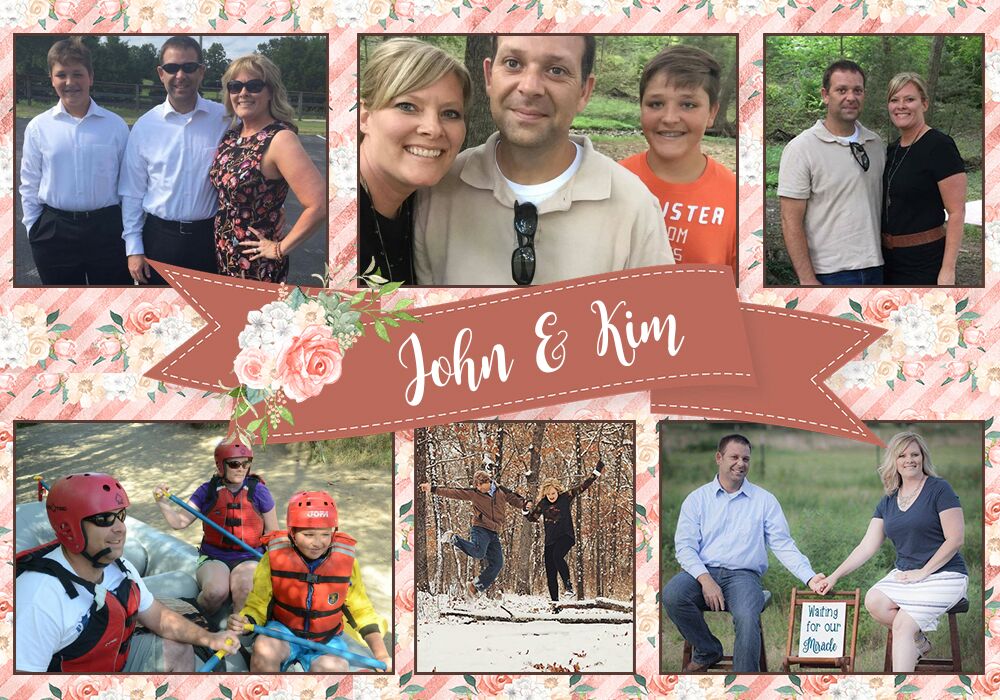 Growing our family through Adoption is something we have prayed over and dreamed about.
John and Kim are a fun couple who first met years ago while they were out dancing.  Several years after that, they reconnected, began dating and found themselves happily married.  John is a Fireman and loves the work he does. Kim also finds her work to be incredibly fulfilling as a Special Education Teacher.  Kim loves being bonus mom to Jackson, who is John's son from his first marriage.  This family, Jackson included, are excited about the addition of a baby.  Adoption is something they have prayed about for years, dream about now and look forward to experiencing with their special Expectant Birth Mom.
Wherever she may be, their message to their Expectant Birth Mom  – "We are praying for you."
Simply and honestly put, their relationship with the Lord is really important to them.  They try daily to live their lives in a way that honors Him.  They practice their faith always and rely on God to help them through hard times and celebrate good times with Him.  And celebrate, they do.  With an abundance of family around and so many friends, they enjoy their lives and the important relationships that are a part of them.  They are very close to both sets of parents and their siblings.  They are all supportive of their decision to adopt.  Kim has had family members that adopted, so adoption is known, loved and welcomed by their whole family.
They live in a beautiful area of Missouri and are excited about their new home.  They have had fun changing, fixing up and making their house what they want it to be for their family.  Good thing that John has a knack for construction and is a handy guy to have around.  The home is perfect for their growing family.
They share their home with two cute furry babies.  Sawyer is a 4 year old Morkie and Sammy is a 7 year old Yorkie.  These little guys are so loved and are also great with babies and children.
John and Kim both really enjoy being in the great outdoors and all the activities that come along with it. Their family has created many memories with their outdoor fun.  The kind of memories that a child will happily look back on – camping, fishing, hiking, rafting, exploring.   Kim enjoys time with family on their adventures, as well as crafting and shopping.
One of their favorite vacations is when they took Jackson to Disneyworld. Believe or not, they had fun during the 19 hour one way trip, while at Disney and the ride back, too.  They share that they even have fun watching their favorite shows together.  Family time is important to them.  They also really enjoy being married and love spending time with one another.
Kim shares about John –
I have the greatest respect for John. He is a good parent to Jackson because he teaches him skills that he will use for life.  He is the kind of dad that encourages him to make good choices.
John shares about Kim –
She has such a big heart and is amazing with children.  Even animals are drawn to her.  We have chickens and when we let them out of their pen, they follow her around like she is the mom hen.  🙂

Their thoughts on parenting –
As parents we provide love and structure to the children we are blessed with.  Mostly, we feel that parents should be parents, rather than friends to their children.  We like to to have open and honest conversations with our teenager about the choices he makes.  We will love unconditionally and do the same with all of our children.
If you would like to find out more about John and Kim, please just let us know.  You can fill out the form below or call us and we will be happy to answer any questions you may have.