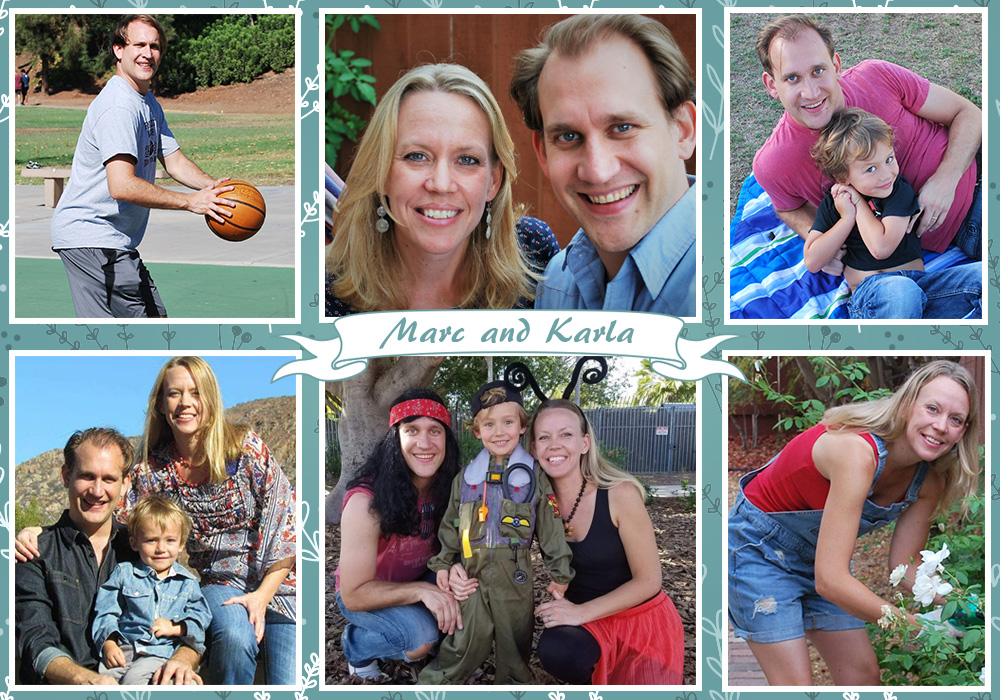 Back in the day when people would go to Blockbuster to rent videos, Marc and Karla happened to meet each other there.  They also happened to be on dates with other people.  The guy Karla was on a date with was also friends with Marc.  After a series of cute little "run ins" into each other over a short period of time, they began to date and they never stopped.  A huge attraction for both of them was the way they seemed to end up hysterically laughing whenever they  were together. Having fun came naturally to them.  From the beginning, they both share that it felt like they were old friends, but their relationship easily deepened into something much more significant.   Marc shared his European upbringing and love for all things cultural.  Karla has a sense of adventure, as well as a natural calling to help the underprivileged. They both love to travel.   They seemed to draw out the best in one another, as well as balance each other out.
Getting married was easy because they just knew that they were meant to be with one another.  They began to grow their family and were blessed with the birth of their son, Soren, four years ago.  Soren is a cute little boy, who loves learning and going to preschool.  His favorite things to eat or drink happen to be anything with lemon in them -(lemonaide, lemon bars, lemon ice cream). Soren likes to travel to see family in Seattle on Thanksgiving, visit the family farm in New Jersey during the Summer or spend any day at Disneyland with his cousins.  He is imaginative and creative and likes to spend time with people of any age.
Marc is a Communications Manager at a healthcare IT company.  Their company helps doctors and surgeons manage their practices efficiently.  The best part of Marc's job is his flexibility in being able to work from home.  He shares how he and Soren are able to get up and have breakfast every morning together.  Though he is a great provider for his family, his priority is to have quality time with them as well.
Karla is a Pastor at their church.  Her calling is to speak, help others to grow their faith and lead others in ministry positions.  She is a sought after speaker and teacher.  Karla feels blessed to get to be with people at some of the most significant times of their lives – birth, marriage and death.  She includes her family with her work, be it visiting orphans, organizing camping trips with other families or travelling to an exotic place to perform the marriage ceremony for a couple.
Marc and Karla both believe that God cares for each of us deeply.  And when we struggle or go through hard times, God is with us.  They live their faith by example, but that never stops them from having a good old family dance party with their son.  At any time, because music is a huge part of their lives, you might find Marc play an instrument or the three of them having a blast and dancing around their house.  Their little Beta Fish – Eli Fish gets to watch all of the fun.
Marc and Karla are super excited and trusting in the Lord to grow their family through adoption.  This has been a faith journey for them as they have been waiting…  and they pray consistently for the Expectant Birth Mom that will bless them with a baby and make Soren a big brother.
Marc and Karla's favorite things:
Marc:
Basketball
Recording music
Movies
Friends
Big meals
Poetry
Traveling
Mindfulness practices
Nature
Laughter
Karla:
People (family and friends)
Being outdoors
Art (free expression)
Travel
Laughter
A good book
Working with my hands
Food
Hearing an inspiring story
Dancing
Matthew 11:28
Come to me, all who are weary and burdened, and I will give you rest
Dear Expectant Mother~
We thank you for your courage in making such a difficult decision. Please know that the courageous steps you are taking for your unborn child will be honored for years to come. We are committed to creating a space of joy, care, laughter, and most importantly, love. We hope and pray for strength and peace for you as you go about this process and, should you find us a match, we believe in God's blessing and provision for your life.