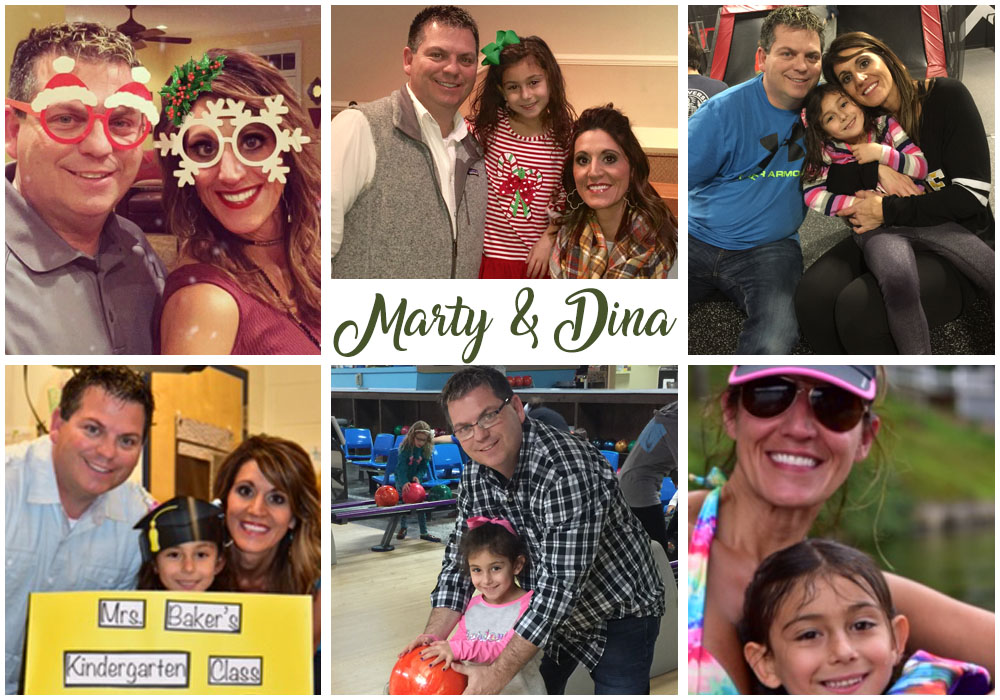 "Parenting is the most rewarding experience. The Lord said that children are a blessing. We, as parents, are the vessel that He uses to raise them for His plan and purpose. We have been so blessed through adoption with our first daughter. We trust Him with great anticipation for our next child."   ~ Marty and Dina
Whey you meet Marty and Dina, they are not a couple that you would easily forget.  Dina is beautiful and outgoing and friendly.  Marty is thoughtful, gentlemanly and handsome.  They met in church almost twenty years ago.  Marty loved Dina's long curly hair and she loved how he would do special things – like fill the whole house with balloons for her birthday.  They had so many of the same interests and both had strong love for the Lord.  Faith has been the foundation of their marriage and they continue to have fun and enjoy one another's company.
Marty is the ultimate business man.  He is an entrepreneur that enjoys building businesses that are successful and can give others good and stable work environments.  Dina is very talented and sought after in her work as a hairdresser.  She has a lot of fun the two days she works per week.  Because they make their own schedules, they feel their most important time should be spent with their daughter, Juleyanne.  They both dreamed of the day they would be parents and though the wait was a bit longer than they had wanted, they know that Juleyanne came to them perfectly on time.  They love being her parents.
Juleyanne is a fun and talented little girl.  How she loves to dance and sing.  Just like Dina, she is very social.  She has a lot of friends, but really wants to be big sister.  She cannot wait until that happens.  Marty and Dina feel that it is important to give Juleyanne (and any of their children) the opportunity to grow her talents through time, experience and lessons.  They all love their church as well and enjoy spending time in the children's ministry together.   One of their favorite places to hang out together as a family is the beach.
What Dina Loves About Marty:
I love his loyalty and his love for us.
His love for life and our life together.
He loves with his whole body and mind.
He is super patient and always kind with our daughter.
He is a perfect example for her to choose the best mate for her.
He says "I love you" 100 times a day (no joke).
He is so protective with all his heart.
What Marty Loves About Dina:
Great Mother.
Always considers others before herself.
She loves with her whole heart.
She is an extremely hard worker.
Without her our home would not run smooth at all.
Her smile melts my heart every time I see it.
She makes up her own words!
---
Dear Birth Mother:
We want to tell you how we appreciate your selfless action of love that you are considering.  It is a honor to have you consider us to be your babies parents.  We are praying for your perfect match for you and your precious baby.  We promise to love her with all our heart.  Our daughter will be the best sister anyone could ask for; she asks daily when her sister will arrive.  
Sincerely
Marty and Dina