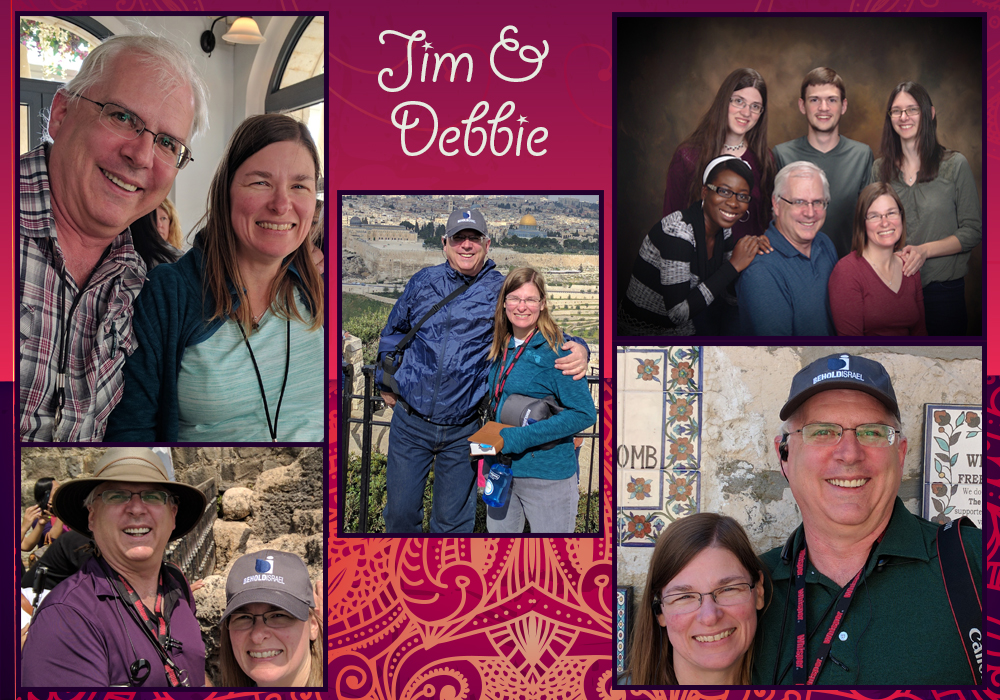 Jim and Debbie have had the blessing of experiencing love and life together!
Jim and Debbie met when they were kids in a youth group at church.  They have been together since the ninth grade.  They have had the blessing of experiencing love and life together.  Their marriage is one where they have fun daily.  They have a very nice home located centrally in Southern California.  They live in a beautiful, family oriented community and attend a church where they are actively involved.
Their home is full of laughter as they have four children going in and out to various activities. They have three biological children -Sarah Joy, Melissa and Andrew.  Their daughter, Charline, was adopted from Haiti.   Their dream, as a family, is to adopt another child.  Jim and Debbie cannot wait to welcome a baby into their family.
They have three super friendly doggies – Minnie, Snowball and Luna.  They also have a kitty that they took in and raised from two days old to now – Inky.  Their animals are part of their family and are great with children.  Besides bowling, having a big Saturday morning breakfast together – one of their favorite family activities is to walk the dogs together.
Jim provides well for his family in his work as a software engineer.  He enjoys the technical aspect of things and has passed that trait on to their children.  Their son, Andrew,  just built his own computer.  Jim has been very involved with the raising of their children – including leading boy scout troops.
Debbie enjoys her role as wife and mom.  She also regularly takes on jobs helping others in her neighborhood, church and community.  Debbie has a heart for children and has been on several missions trips to Haiti.  She has worked and helped children in orphanages. It was there that she met their daughter Charline.
My favorite memory of my wife is:
One of my favorite memories about Debbie is seeing her in the orphanage in Haiti.  Debbie has a real heart for children – and watching her hold one of the little ones while at least 10 more were following her around looking for attention.
My favorite memory of my husband is:
After ninth grade, Jim and I was in a High School group that separated into small groups according what city you live in.   Jim and I didn't live in the same city.  The class I was in was surrounded by glass walls.  Jim would walk by and wave to me until I couldn't see him more.  We would meet up at church on Thursday nights and walk to arcades or the mall and spend time with each other.
Jim's Favorite Things:
I love the ocean and the beach.
I love tent camping.
Jazz and electronic music.  I listen to a lot of this while I work.
Video Games – I used to work for a video game publisher, so I do still like to play video games.
Electronics – This is an old hobby I'm finding myself getting back into.
Outdoor cooking.  Outdoor cooking used to be just hamburgers and hot dogs.  Then when I joined scouting I discovered dutch oven cooking.  Now I'll do Lasagnas, stuffed pork chops, Chicken Carbonara…
Amazon – I probably spend a little too much time browsing the deals on Amazon.
Rain – I like the sound of rain – I pretty much always have (I grew up in a mobile home – there's nothing quite as soothing as the sound of rain on an aluminium roof).  I even like driving in the rain – weird, huh?
Tea – I love tea – all kinds of tea – Black tea, herbal, white tea, red tea, green tea.  I always make it from tea bags, without sweetener, and almost never drink it hot – I usually drink it as iced tea.
I love road trips when I get the chance to do them.  Whether it's driving a few hours to camp, or the times when the family went to Yellowstone, Yosemite, the Grand Canyon or Zion/Bryce Canyon.  I like take int he scenery.
Debbie's Favorite Things
My dog Snowball
My jobs
My coloring book
My garden
My time alone with God
Bowling
Eating out with family
Relaxing
Baking desserts
Being with my kids.
Our Favorite Bible Verses- We firmly believe also in the power of prayer!
Jeremiah 33:3 – Call on me and I will answer you and tell you great and mighty things which you do not know.
Philippians 4:6 -Be anxious for nothing but in everything by prayer and supplication with thanksgiving let your requests be made known to God.
---
Dear Expectant Mother, 
Thank you so much for taking the time to read this and get to know our family.  Please know that we are praying for you, asking God that he would first grant you His peace and the knowledge of His deep love for you.  But also that He would lead you and guide you in the difficult decisions ahead.  Should you choose us to raise your little one, know that your little one will be every so deeply loved and will grow up in a Christ centered home.  But whatever you decide, know that we admire your selfless courage and your loving decision to choose life for your baby.   We thank God for you and pray that he would richly bless you!
---