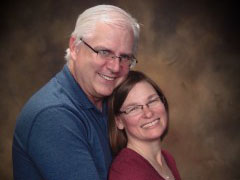 "We have a loving marriage based on God first."
Hello, I am Debra and this is Jim.  We met each other in 9th grade at a Church youth group. In early 1991 we each married our best friend.  We have a blessed and strong loving marriage based on God first, team work, respect and laughter.  We decided early on that we wanted to have a family. That December we were were blessed with our first daughter, Sarah.  Just three years later came our sweet and witty Melissa, and then the baby of the bunch, Andrew (who is almost an Eagle Scout).
Adoption was always on our hearts
Adoption and Foster Care has been on our minds from the beginning since we became engaged.  After moving to our current home God blessed me with a good friend.  This friend asked me to go to Haiti with her.  In Haiti we visited an orphanage near Port-Au-Prince.  It was there that I met a sweet 14 year old girl named Charline who I instantly fell in love with.  The next year Jim went to Haiti to meet her and fell in love with her as well.  With a bit of paperwork, phone calls and the Lord on our side sorting things out and cutting through red tape, we were able to bring our Haitian treasure home in February 2010.
About Jim
Jim is a software engineer and enjoys serving as an Assistant Scoutmaster in Andrew's Boy Scout troop.  He loves to go camping and hiking, he dabbles in photography and enjoys outdoor cooking (often for large scout groups).  He loves spending time with our children, from scout outings with Andrew to road trips with the family.  When they were young, he loved taking them to the beach while I worked. Jim loved having them "Help" when working around the house. Helping by inspecting the contents of his tool box, or reading "The Cat In The Hat Comes Back" to our youngest daughter. He read it so many times that he could recite it from memory.
About Debra
I have been blessed to be able to be a stay at home mom for our children for most of their lives. I am so grateful for our loving marriage, and our family. We enjoy hiking, and also arts and crafts, movies and taking walks.  Family is important to us, and we love to get together with our parents, brothers and sisters.  Thankfully, most of our family live within driving distance.  We are all animal lovers, with one cat (Inky) and three dogs (Princess, Minnie and Snowball) and even some goldfish that Charline won at a fair.
Our Heart
Even after we brought Charline home God put it on our hearts that our family wasn't done growing.  But after grieving through a series of early term miscarriages we felt that the Lord was leading us to consider Adoption.
In conclusion, thank you so much for spending the time to read about our family and considering us as Adoptive Parents.  We can't wait to have a little one in the home who we can lavish with love and attention.
It would be great to get to meet you. We will be in prayer that God would grant you grace, peace, as well as strength and loving kindness in your life. May God bless you in the search for the family for your sweet baby.
God Bless!
Jim, Debbie, Sarah, Charline, Melissa and Andrew