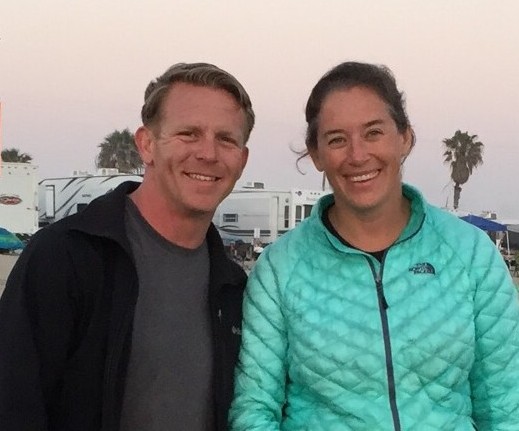 "There are so many things we want to say to you, but the first is thank you."
Thank you for choosing life for your baby. Thank you for considering adoption.
We can only imagine what you must be going through that brought you to this point but we are thankful that you are here and we know that God has a plan for you and a plan for your baby. We are praying for you and are grateful that you have found Adoption Center of Hope because they have a true passion for helping birth and adoptive families. As you think and pray about what will probably be one of the most difficult choices in your life, we would like to tell you a little bit about us. We hope this will give you peace and put your mind at ease; there are families who can't wait to love and cherish the children God gives to them through adoption. We are one of those families.
We are both Marines and met on Miramar, a Marine base in southern California. We were friends for a while before we started dating which really helped us build a strong foundation. Very early on in our relationship we started going to church together and that truly bonded us and helped us to make sure that God is at the center of our relationship. We were involved in our church through a small group and the Feeding America ministry. Our church family has always been an important part of our life.
We have a lot of things in common, but also differences; both of these things make us a strong couple. We love God and our families; we are best friends; we participate in things that are important to the other person; we work hard; we enjoy doing all kinds of things outdoors; we have had successful careers that have opened many doors and provided many opportunities to see the world and meet lots of new people. (Erin can speak two foreign languages and has travelled to over fifty countries!) We have our differences, too: Quentin is very talented mechanically while Erin is the critical thinker (he's the brawn, she's the brains 😁); Erin is a communicator while Quentin is a man of few words; Erin loves to read, and Quentin will….if it's a truck manual 🙂 Some of the things that we enjoy doing together and with the boys: camping on the beach (we do a lot of stuff on the beach, it's our favorite place….we got engaged on the beach, run on the beach with the dogs, and got married on the beach); hiking in the woods; going to the movies, the climbing gym, and the trampoline park. We believe it's important to introduce the boys to new things and challenge them to help them find what they like and what they are good at. We will do the same with the child that we adopt. We are excited to find out what his/her talents are and helping him/her chase their dreams.
What Quentin says about Erin: She is the smart one and a critical thinker. She is more analytical. She is a godly woman, devoted to God, to me, and to the boys. She is a very understanding person. What Erin says about Quentin: He is a very strong man, very resourceful, and can fix just about anything. He is also very generous and very thoughtful.
In December of 2017, Quentin resigned from the Marine Corps so that he could be closer to his children who live in Missouri. He has two boys from a previous marriage. We are both very committed to supporting them and being a good stable family for them to grow up in. We decided that Erin should stay in the Marine Corps until retirement, which will happen in October of 2018. Quentin got a good job working as a Director at a hospital and we bought a
house…with a room already set aside for the child we will adopt.
Adoption has always been on Erin's heart and it was the plan from the beginning that we would adopt. We are so very blessed and we feel both
called and honored to share our blessings with another child. We have already talked to the boys about adoption and they understand that the child who comes into our home will be just as much as sibling as they are to each other. They will be great big brothers!
Thank you for taking time to get to know us. We would love to hear from you and answer any questions you may have. We will continue to pray for you as you make your decision.