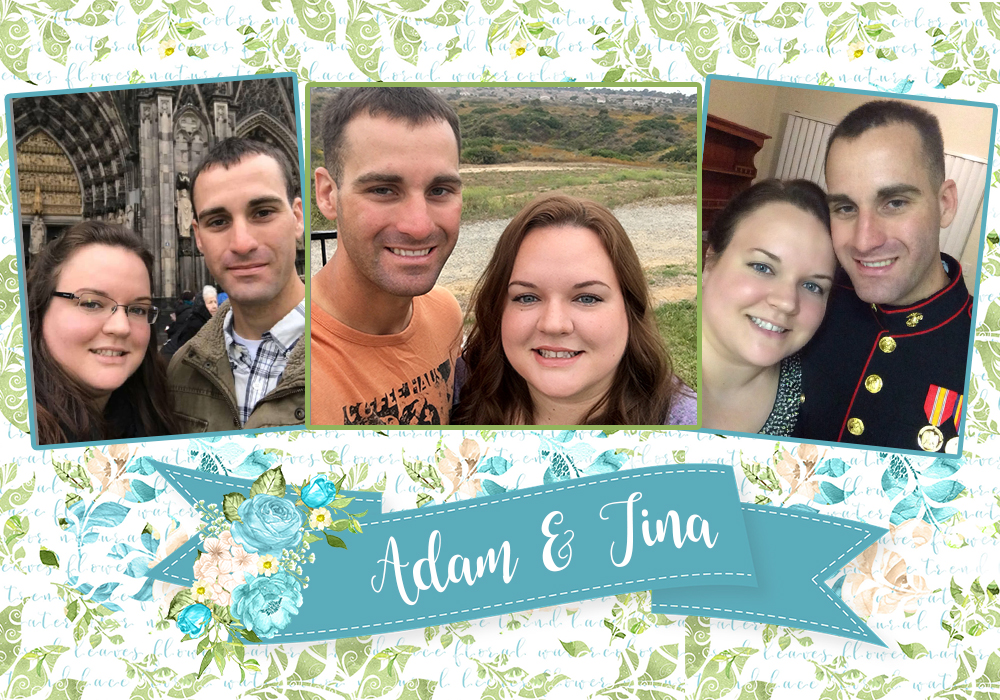 "We commit to loving and protecting this child as our own."
Adam and Tina are High school sweet hearts. They met when Tina was a Junior and Adam was a Senior. How adorable is that!? They are both so excited to be parents and believe children are such a blessing. They share their home with two dogs and two cats. Jack is a lovable Lab mix, Arrow is a snuggly husky mix and Ben & Jerry are their two silly, black cats. If their animals could talk, they would probably say they are the most spoiled pets around and can't wait to welcome a little one to their pack!
We can all be thankful to Adam for his service in the Marine Corp. He now works as a Police Officer. Tina enjoys her work as a paralegal. They are now ready to be parents.
They have both been blessed with terrific families. Tina's parents are incredibly loving and supportive. Her dad has always been the voice of reason in the family. Her mom is generous and always sees the best in everyone.
Adam's family is very close-knit. His parents' passion is working with the community church. Their grandchildren are always excited to visit them because they always do fun activities and she is a great cook! They have been supportive of all of their children and willing to go the extra mile to help anyone who needs it. Family get togethers are always fun. They usually consist of his siblings, nieces, nephews, and cousins. Adam and Tina enjoy spending time with their 12 nieces and nephews! The youngest is 4 and the oldest is 17 so they get to enjoy all the different stages!
You will usually see both sets of grandparents at any of the family get togethers. Their families extend into one another and to all of them, adoption would be a natural extention to their family as well.
They are just one huge happy family praying for you and your baby.
Adam and Tina have a strong faith in the Lord. As Christians, they plan to raise their children grounded in these beliefs. They hope to show their children that the Lord loves them so much that He gave His life for their sins. Another hope is to teach their children to show love and kindness to others. Tina and Adam do believe, the final decision to accept the Lord as savior would need to be made by each individual child between them and Jesus.


Adam shares about Tina:
She is caring, nurturing, smart, patient, has a great sense of humor, and a genuine love for children and all living things. She knows just how to bring the best out in others, and can't stop from making clever and funny observations. She always seems to see the best in people and things.
Tina shares about Adam:
He is loyal, very funny, easy going and hard-working. Qualities that would make him a good parent- He is very patient with children and always wants the best for them. I always joke with him that he's a "kid magnet" because kids think he is so funny and that he is the best playmate. One of the cutest moments was when our friend's two daughters brought down their barbies. They brought him to the kitchen table to play with them and they gave him a barbie! He was such a good sport and sat at the table with them.


HERE ARE A FEW OF THEIR FAVORITE THINGS:

Tina:
Books
Travel
Church
Disney World
Pets
Family
Cooking
Music
Tennis
Adam:
Motorcycles
Marine Corps
Church
Family
Hiking
Swimming
Hunting
A note from Adam and Tina to you:

First, we would like you to know that you are brave and selfless for putting your baby first. Children are a true blessing and your love shows by your actions. We commit to loving and protecting this child. Our child will be surrounded by a loving family who is just as excited as us to shower this baby with love. This child will have a loving and safe home, a wonderful childhood, and access to education. We know that education is essential for their future and will be encouraged and provided to them. We will continue to pray for you every day.

~Adam and Tina
[gravitrm id="yfo2″ title="true" description="true"]