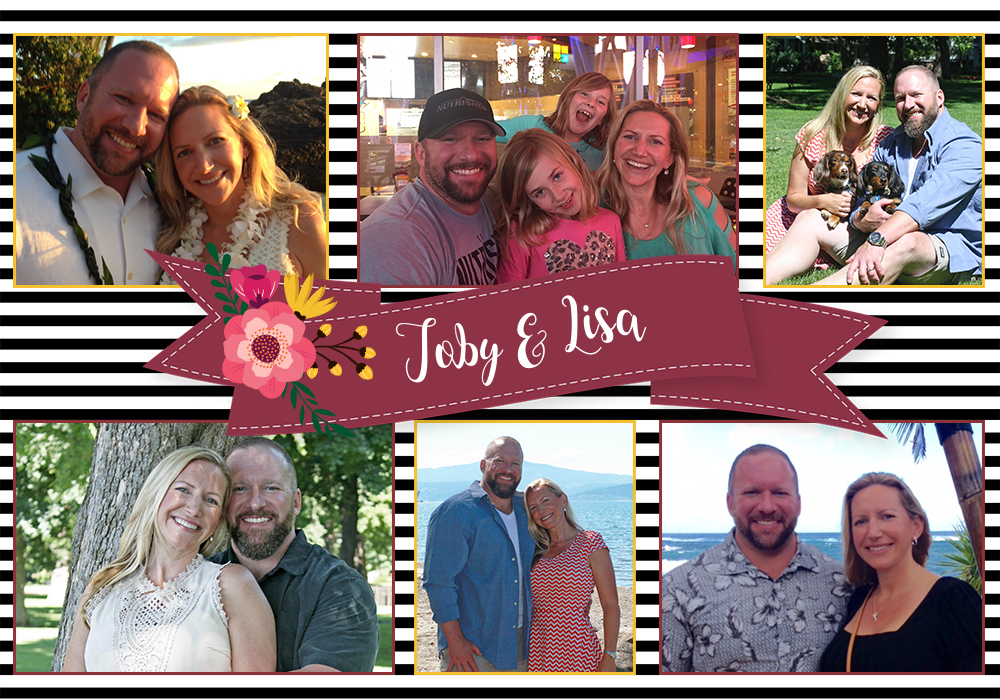 Our love for the Lord and passion for helping others are values we hope to instill in our child.
Toby and Lisa are a beautiful couple and live a beautiful life together of fun, fitness & adventure. They met in 1998 when Lisa was in college at the University of Riverside, California. Toby was friends with Lisa's roommates' sister. Toby's group of friends and Lisa's group of friends got along great and started spending time together. After a few months of being friends, Lisa and Toby realized that there was something special between them, and started dating. They married in October 2000 on Big Bear Lake in California, surrounded by friends and family.
Toby and Lisa enjoy their life together with their two miniature long-haired Dachshunds, Fiona, and Ellie in Northern Idaho. Ellie and Fiona are their fur babies and are a huge part of the family. These sweet pups are great with children and thoroughly enjoy spending time with Lisa and Toby's nieces, Jadyn and Sienna.
Toby and Lisa are blessed to have their families living close by. Their family is so supportive and ready to welcome a little one into their family.
Lisa is so ready to be a mom and looks forward to caring for their child. For now, she enjoys helping in the nursery at their church. Toby and Lisa are a fun Uncle and Aunt and feel blessed to get to spend a lot of time with their nieces over the summer. Summer fun with the girls includes fishing, catching tadpoles. make-up fun, taking selfies, shopping, reading adventure books and lots of outdoor fun! They are both beyond excited about becoming parents and all that it entails. Toby and Lisa are looking forward to becoming parents in every way possible, teaching them and watching them learn. Above all, they hope for a healthy, happy child with a heart for God.  Their love for the Lord and passion for helping others are values that they hope to instill in their children. They also have a love for animals, enjoyment of nature and all of God's creation.
Toby and Lisa own a nutrition business. They both love helping people become healthier. It brings them joy to see people get better and the positive ways it changes their lives, whether it is losing weight, dropping blood pressure, balancing blood sugar, or mitigating disease. Toby is a nutritionist and does meal planning and supplement program design for clients.
Lisa loves to play with Fiona and Ellie, being outside, whether it is gardening, walking, fishing, hiking or just laying in the sun. She enjoys exploring nature, and being with her best friend… Toby. She also looks forward to spending time with her mom and best girlfriend Dana as they are a huge part of her life.
Toby loves to fish, be outside enjoying nature, hike, walk, and be on the lake. They explore the eight lakes they are blessed to be within 20 miles of on their fishing boat. He also enjoys working out at the gym. He describes Lisa as his best friend, and they love to spend the majority of their free time together. He is also a part of a men's fellowship group and they are all very close and enjoy eating together, praying together and doing a bible study.
Toby's Favorite Things:
Food- Medium-rare burger with jalapenos and all the fixings.
Season- Summer, because I love the sun and being able to fish until 9pm at night because it is still light.
Vacation- Maui, because it reminds me of my honeymoon every time I go, and it is such a peaceful, beautiful place.
Movie- Anchorman, the first one. It is hilarious and has so many classic lines.
Animal- Platypus, because it is a mammal that lays eggs, which is crazy. And it is adorable. But it has stingers on its hind legs that inject a painful poison if it gets afraid or mad, so even though it looks harmless, it can defend itself very well.
Song- currently is "Take my life" by Jeremy Camp.
Non-fiction book- The Bible
Fiction book- The Stand, by Stephen King.
Way to relax- Fishing. It is so peaceful to be out in nature trying to outsmart fish.
Lisa's Favorite Things:
Food- Cheeseburger, because it's awesome.
Ice cream flavor- Birthday cake with sprinkles and m&m's at Cold Stone.
Guilty pleasure- Hula Pie in Maui. Because it is the best dessert ever and reminds me of our amazing family vacations.
Hobby- Playing with my puppies because they are the cutest dogs on the planet.
Color- Blue, because it reminds me of the ocean and relaxing vacations.
Animal- Dog, because they are loyal, smart, and love us unconditionally.
Holiday- Christmas, because the whole city is decorated and it's a beautiful time oyear.
Season- Spring because I love to see all the new life and growth.
Vacation- Maui, because it is the ultimate place to relax, make new adventures and spend time with family.
Dear Expectant Mom,
We are very grateful for the opportunity to share this journey with you and this special child. We've spent many years praying for this child, and through all of that time, we believe God has led us to you. We want you to know that we will do absolutely everything in our power to love, protect, encourage and be the best parents that he or she could possibly have. We realize the selflessness that it takes for you to place this gift in our hands, so know that our prayers are not just for this child, but also for you. Thank you for the great courage and amazing selflessness you've shown, and for considering us to love and raise this sweet and special angel as our own.
Toby and Lisa
Contact Us About this Adoptive Family
Form for each online profile of adoptive families.
Save
Save